Things to Consider before Hiring an IT Support Service for Dentists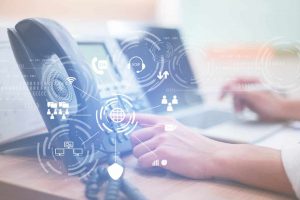 Healthcare—particularly the dental industry—is one of the most vulnerable industries when it comes to cybersecurity. After all, dental offices keep a lot of sensitive information on file including billing addresses, insurance information, phone numbers, e-mail addresses, and so much more. A breach of security could easily wreak havoc on any dental office. That's why you need reliable dental practice management software to help protect all of your sensitive patient information and prevent cybersecurity risks from occurring.
With that in mind, here are a few important factors you should consider when looking for professional managed IT services for dentists in Toronto and the GTA.
Are They an IT Support Company or a Dental IT Specialist?
When it comes to hiring an IT company to manage all your dental software needs, it's important to know the difference between an IT support company and a dental IT specialist. The former provides generic IT and technical support to a wide range of businesses, whereas the latter specializes in providing dental software support.
Dental IT specialists are more than just IT experts. They know the ins and outs of the dental industry and can help you choose the best dental software and systems to help you stay organized and better manage your business, such as the CDA ITRANS Claim Service. Additionally, they offer remote dental IT support to avoid impeding on your work hours or slowing down your daily processes. From backing up your confidential network data to running diagnostics, logging system changes, testing network data transfer speeds, and more, dental IT specialists can ensure that all your important data is kept safe and secure from cyberthreats.
How Fast Is Their Turnaround Rate when There's a Problem?
Working in a dental office means that you're constantly updating patient files or creating new ones as needed. In the event of a security breach or risk, you need to know that you can rely on fast and thorough dental IT support in Woodbridge to fix the problem completely. Even with the best software on the market, the risk of a potential security breach is inevitable as hackers work around the clock to find ways of breaking down virtual barriers and accessing the information they need.
When hiring a dental software support company, you should find out what their turnaround rate is when there's a problem. At Priority Networks Inc. in Vaughan, we offer 24-hour remote support with a 15-minute response time. We also offer 24-hour phone support and 24-hour emergency on-site support with a maximum two-hour response time. Our team of distinguished dental IT specialists works fast and hard to ensure that your system is back up, running, and secure in no time!
Do They Offer Monthly Maintenance and What Does It Cover?
Full-service IT support for dental offices in Vaughan, Woodbridge, and Barrie should be exactly that—full service. So, what does that entail exactly? You should expect to receive the following services for a low monthly fee:
Next-day non-emergency on-site support as needed
Same-day critical on-site support as needed
Operating system reloads, anti-virus software installation and maintenance
Detect and remove spyware, adware, and pop-ups
Testing network data transfer speeds regularly
Log system changes, programs or hardware added since previous visit
Install latest O/S patches, clean temporary files on hard drive
Create portfolio for individual workstations containing machine specs and configurations
Clean monitor screens, mice and keyboards interior PC cleaning
Regular analysis of workstation hardware to ensure that machine is running at optimal performance
As a customer of Priority Networks Inc., you will receive top priority treatment and all of your technical inquiries and issues will be handled professionally and diligently, so that you can focus on running your dental clinic.
Are Robust Security Solutions Included?
Outsourcing your dental network installation and IT solutions in Woodbridge to Priority Networks Inc. can help you save money on monthly operational costs in the long run. With the right IT support for dental offices in Vaughan, you can rest assured that all your data will be backed up onto a secure highly secure cloud-based system and all spyware, adware, and pop-ups will be detected and promptly removed. A professional dental software specialist will not only take proactive steps to backup and restore your data so that you can regain access to your patient files, but they can also take preventative action to mitigate and minimize cybersecurity risks. At Priority Networks Inc, all backup solutions have a standard military-grade, 256-bit encryption to encrypt the data for added security.
Can They Help You Scale Your Practice?
Another important factor to consider when choosing a reputable dental IT service in Vaughan is whether they can help you scale your practice. What this means is that as your dental practice continues to grow—whether it's acquiring new patients, relocating, or opening multiple locations—you're going to need to expand your IT support services accordingly. Essentially, you need to choose a dental IT support service that can seamlessly evolve with your business, make appropriate network expansion recommendations, and adapt to the changing needs of your business.
Priority Networks Inc. is committed to providing high-quality and reliable IT support to dental clinics in Vaughan, Woodbridge, Barrie, and across the GTA. From system installations to monitoring and regular updates, we provide top-notch technical solutions to help your dental practice run smoothly and efficiently. Contact us today for more information about our services.