The Importance of Data Cabling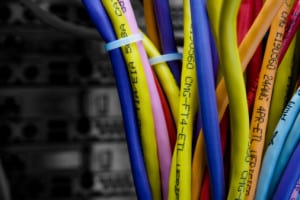 It's clear we're in an era where technology is at the forefront of nearly everything we do on a daily basis. The workplace, of course, epitomizes this new reality, as technology has become an integral part to how most businesses function and succeed today.
With technology at the heart of the workplace, the infrastructure behind that technology is the veins that allow it to operate at its best. It's no longer acceptable to neglect the importance of technology, which means you need to have a sound structure in place to keep your operations running smoothly. Data cabling is a part of the foundation for activating and maintaining that structure, which makes it a vital part of your business operations.

What Is Data Cabling

It's easy to get overly technical when explaining exactly what data cabling is, so this is the easiest description: data cabling consists of the smaller structured elements of a building's telecommunications cabling infrastructure. Put simply, there is no network infrastructure without the cabling.
Organized Chaos
If we had to define what cabling does, we would say it organizes chaos. The goal of cabling is to make sense of the elements and connections that allow the technology to function. With the evolving nature of technology and communication, this is not always a simple task.
Focusing just on communication alone, you're not just talking about a phone on a desk anymore or simple company e-mails. Voice over IP (VoIP) is common now as well as video conferencing, cloud computing, and finding ways to support an increasingly remote and mobile workforce. All of these factors play a role in how the foundations are set and why IT is continually attempting to keep the chaos organized.
Benefits of Structured Cabling
The most immediate and obvious benefit is reduced down time. Having an unstructured cabling system leads to unnecessary and preventable mistakes, which leads to your company losing time in having to resolve these matters. Organized data cabling also increases the efficiency of your network, and allows for quicker tracing. And one last benefit that shouldn't be ignored is the fact that organized data cabling just looks better, "better" meaning neater, cleaner and ordered— there's certainly value in aesthetics.
Cabling is the most important aspect of wired computer networks and is often overlooked. Your network is only as fast and efficient as the cabling in your building no matter what hardware you have in front of it. Priority Networks Inc. understands all of the benefits of cabling and can provide top level service to ensure we meet the standards set out in this article. We've helped many small businesses in Toronto match and exceed their network goals and we expect to do the same with all of our clients.
Visit our website to learn more about how Priority Networks can help your business grab control of its network.