8 Reasons Why Your Business Should Migrate to Windows 10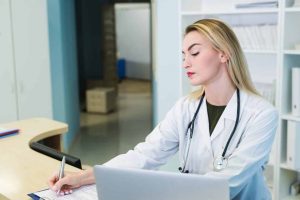 Microsoft first launched Windows 7 in the summer of 2009. That's a lifetime ago in the world of computer software. Since then, Windows 10 has evolved into a safer, faster, more user-friendly, efficient operating system.
After providing 10 years of product support, Microsoft announced that it will be ending all technical assistance and security updates for Windows 7 on January 14, 2020. This allows Microsoft to focus its efforts on its newest product offering.
After January 14, those who have not migrated to Windows 10 and are still using Windows 7, will not be provided with any updates or fixes—including security fixes. Failing to migrate to Windows 10 means your network is susceptible to viruses, malware, and future security flaws.
With that said, here are eight reasons why your dental practice should embrace the Windows 10 upgrade.
Unprecedented Speed
When first launched, Windows 7 and Windows 8 were cutting edge and fast (there was no Windows 9). But those operating systems are seriously outdated compared to Windows 10. That includes a fast startup and fast overall speed. While Macintosh has always held bragging rights for having a quick startup, Windows 10 is even faster.
It's Compatible
Windows 10 was designed with today's users in mind. In fact, Windows 10 is compatible with more than 95% of applications that work on Windows 7. That means the cost or challenges of migrating a network to Windows 10 from previous versions should be minimal.
Easy to Manage
Windows 10 is Microsoft's most powerful operating system. While it is the most complex OS, it is also user-friendly and easy to manage. All mainstream patch releases (smaller improvements) and major upgrades are delivered on a pre-planned schedule, allowing you to schedule upgrades around the demands of your business.
More Efficient Updates
New technological advancements with Windows 10 streamlines the updating process. Windows 10 identifies new changes to the operating systems that the network needs and downloads only those updates. This feature reduces the download size of Windows 10 updates by as much as 35%. Not only does this make installing updates on Windows 10 more efficient, it also saves storage space on your PC.
Configuring Your Business's Computers Quickly
Through Windows Autopilot, which is available in the Enterprise and Professional versions of Windows 10, it lets businesses set up and preconfigure new devices. A system configuration can be tailored to the individual needs of any employee.
This feature allows dental offices to manage and reset the network easily, faster, and more securely.
Ransomware Prevention
Ransomware is a malicious form of software that, once initiated, locks and encrypts a user's computer or device. The only way you can get access to your business's personal documents and data is to pay a ransom.
Ransomware is typically launched through phishing emails that have infected attachments. Computers can also get hit with ransomware by visiting an infected website, which automatically downloads the malware without you even knowing.
Dental clinics have been targeted by ransomware in the past. In August 2019, an estimated 400 dental clinics in the U.S. were shut down from a ransomware attack, leaving those businesses without access to patient charts, x-rays, or payment ledgers. And in December 2019, more than 100 dentistry clinics were attacked by ransomware.
Windows 10 comes with a basic anti-ransomware that helps prevent malicious attackers from stealing your dental business's work and personal documents. Although this does offer some protection, additional protection from third-party software is recommended.
Stronger Malware Security Tools
Upgrading your dental clinic's network to Windows 10 provides your business with stronger malware security tools. Windows 10 comes with Windows Defender Exploit Guard which scans for malware. Once found, it quarantines and removes it. Windows 10 also comes with additional basic security tools which help protect your office's network.
Safer Web Browsing
Windows 10 also has features that make it safer to surf the web. Windows Defender Application Guard comes in Windows 10 Enterprise and Professional. In addition to containing all the features available with the Windows 10 home edition, the Pro edition of Windows 10 features sophisticated connectivity and privacy tools.
Priority Networks – Managed IT Solutions That Keep Dental Practices Secure and Running Optimally
The certified IT experts at Priority Networks understand that for your dental practice to run fast, efficiently, and securely, the network must be operating optimally. That's why it's imperative that your dental practice upgrades to Windows 10.
Why use Priority Networks for your dental network support? Because we understand the IT needs of the dental industry. It's what we do. Our dental IT specialists know what it takes to make your practice run fast, efficient, and most importantly, securely.
Case in point, for added protection against ransomware, the dental IT support professionals at Priority Networks also use SonicWall. SonicWall hardware is powered by a proprietary operating system that secures a business's network, users, and data, with an added level of deep protection.
On top of that, we have a thorough understanding of the unique software used exclusively in the dental field and have a long-track record of working with the industry's top vendors. Priority Networks is a registered hardware dealer with many importing vendors which gives us the best pricing on all your networking needs.
For a low-cost monthly fee, we provide our clients with comprehensive managed IT solutions, including 24-hour support, diagnostics, cabling and dental network installation and support, upgrades, networking devices (to protect dental practices from ransomware, malware, and hackers), and free consultations.
To learn more about how the specialized dental IT professionals at Priority Networks can help install, manage, and secure your computer network, contact us at (416) 662-6277 or by email at info@prioritynetworks.ca.