7 Myths about IT Managed Service Providers Busted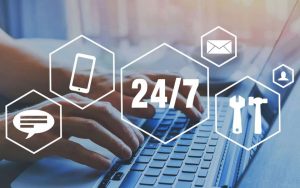 Considering the heightened security risks that have infiltrated the technological industry in recent years, having comprehensive IT managed services for your dental office in the GTA is crucial now more than ever. Hackers are getting increasingly better at surpassing security codes and other measures, which means that your vulnerable patient files are at risk. Naturally, there are a lot of myths and misconceptions that have come to light about how managed IT services for dentists can help prevent security breaches from taking place.
Let's dissect and breakdown some of those myths, so that you can separate fact from fiction and make the right call for your dental practice.
Myth #1: IT Managed Service Providers Are All the Same
Given the complex and unique requirements of each industry that benefits from IT support services, this couldn't be further from the truth. In fact, many professional and experienced MSPs actually offer specialized services in niche markets. As you can imagine, there are a variety of types of IT managed service providers and they each specialize in providing network solutions that are specifically tailored for certain industry-based applications.
Dental software in particular requires the expertise of MSPs that have an in-depth knowledge of the dental industry and how it works. Therefore, Dental IT specialists are well-versed in the dental industry and are familiar with dental systems and software such the CDA ITRANS Claim Service.
Myth #2: IT Support for Dental Offices in Vaughan Is Expensive
Considering the exorbitant cost of hiring and training an internal IT department combined with managing ongoing daily operations and providing onsite workspace for them, outsourcing a qualified MSP is actually a lot more affordable. And it makes more sense because an internal IT department would have a set amount of working hours during the day. Once they go home for the day, that means there's no one monitoring your network and ensuring its security. An off-site MSP can provide round-the-clock services at a much more affordable price.
Myth #3: Dental IT Managed Services Are Inconvenient
Actually, the total opposite is true. In addition to saving you lots of time on training costs and having to provide a workspace for an in-house IT department, hiring an MSP means that you'll get 24/7 remote network monitoring, enhanced security updates, and system updates automatically. IT managed service providers that specialize in installing and maintaining networks for dental offices already know how to take important proactive measures to quickly and conveniently prevent, detect, diagnose, and resolve potential security breaches all before you even come into work the next morning.
And the best part is that these preventative measures have little to no impact on your workday. Your network will always run smoothly and efficiently so there are no delays during your practice hours.
Myth #4: Your Data Will Be at Risk
Managed IT services for dentists offer comprehensive support and that includes virtually impenetrable network security systems that are regularly monitored and updated as needed. What that means is that your dental practice will be completely safeguarded from any and all potential security breaches. You can rest assured that all your patient information, files, billing, and insurance data will never fall into the wrong hands.
IT experts that specialize in providing services for dental offices, such as Priority Networks Inc., also ensure all backup solutions have a standard military-grade, 256-bit encryption to encrypt the data for added security.
Myth #5: You Will Lose Control of Your IT Infrastructure
On the contrary, the purpose of outsourcing a professional MSP isn't to take control away from you or reduce your decision-making role regarding the IT infrastructure at your dental practice. At the end of the day, every decision regarding your IT services is completely up to you and the MSP is there to provide the support and security that your network needs in order to prevent data breaches. MSPs are simply responsible for taking proactive steps to protect your network and offer diagnostic solutions if it's ever in jeopardy. Of course, you'll be notified of all necessary upgrades, updates, and changes that are made to the system and will always have the final say.
Myth #6: All You Need Is a Dedicated In-House Staff to Maintain Your IT Infrastructure
While it's possible to hire an in-house staff dedicated to maintaining your IT infrastructure, this is highly inadvisable and can get super expensive very quickly. First, you have to worry about designating a specific workstation for the IT department. Then, you need to make sure they all receive the appropriate accreditation and training. On top of all of that, you'll be responsible for purchasing the necessary equipment as well as storing it onsite. Tack on the operational costs involved, and you're looking at a very expensive, not to mention inconvenient endeavour—especially if you have a small dental office with limited space to begin with.
MSPs, on the other hand, work remotely so they'll never encroach on your valuable workspace and they already have all of the credentials and equipment they need to properly perform their jobs because the survival of their business relies heavily on their skills and resources.
Myth #7: You Don't Need an MSP if Your Current IT Infrastructure Works Fine
Things may seem to be going smoothly for the time being, but what happens if there's a potential security threat, your system is hacked, or if it's simply running a lot more slowly than it should be? Learning to manage your IT infrastructure yourself or hiring an in-house team is time-consuming, inefficient, and expensive. Instead, you need a delegated professional MSP to detect, diagnose, and resolve these issues quickly so that you can resume your regular practice without any interruptions. Plus, MSPs like Priority Networks Inc. take a proactive approach instead of a reactive approach to prevent easily avoidable issues from arising.
Looking for a dedicated managed service provider for your dental office? Priority Networks Inc. provides top-tier remote IT support for dental offices in Vaughan and throughout the GTA. To learn about our services, please feel free to contact us today!